SwankySwans is an online retailer selling handbags, scarves, shoes, boots and cosmetics to customers, predominantly in the UK, but across the world.
We work on their digital strategy, social media and influencer marketing activity where our role is to use all marketing channels to uplift their first time conversion rate, decrease the time taken for subsequent sales to existing customers and overall increase the lifetime value of each customer. Furthermore, we're the brand guardians for SwankySwans ensuring a friendly, positive experience on all communications channels.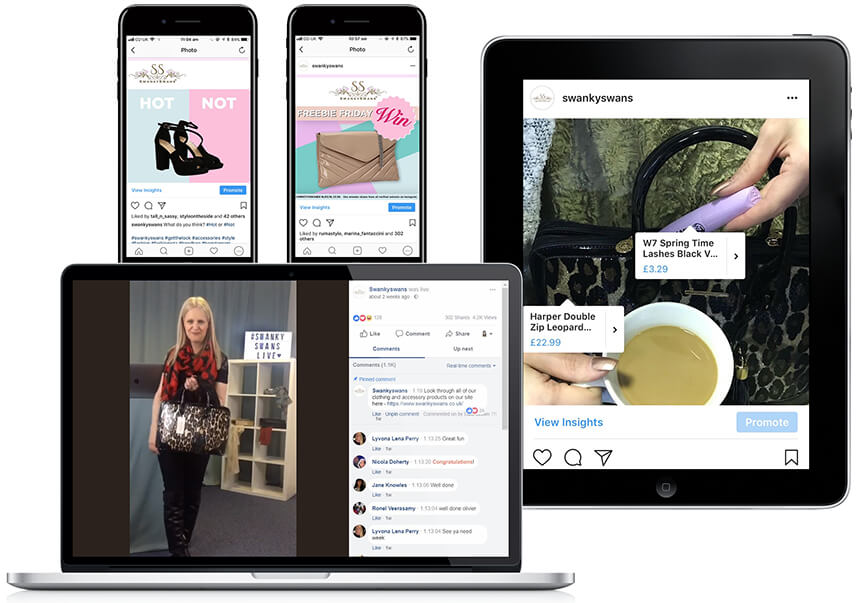 Some of our activities include:
Writing and deploying all editorial content across Facebook, Twitter & Instagram
Creation of original videos, images and mixed media content
24/7 responsive communications and customer care
Managing weekly competitions and fulfilment
Delivery of weekly Facebook Live broadcast
Blogger outreach and amplification
Creation and distribution of weekly sales email
Managing paid media (Google PPC & Facebook Ads)
Reduction in abandoned shopping carts through emails and social media engagement.
Achievements include:
Average response time of 3-9 minutes to 100% of direct messages
100% of visitor posts responded to, within minutes.
Week on week growth in fan base of at least 200 fans
Average post reaches between 5,000-10,000 users organically (zero ad spend)
Customers have self-created a fanclub for the brand, a #swansquad that join the live shows every week and are social superfans who engage regularly with content
Decrease in cost per click on Google Adwords whilst maintaining conversion ratio
Uplift in Lifetime Value (LTV) of customers through sales-led editorial
Uplift in sales from targeted email marketing activities.