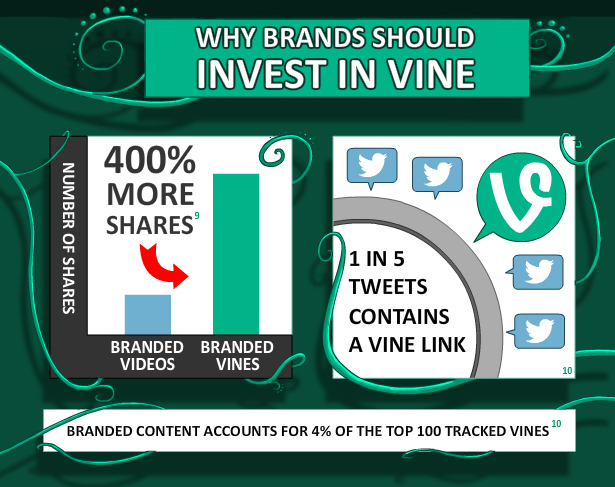 What can you do in six seconds to capture attention and make a lasting impression? Micro-video service Vine challenges you to do just that. Owned by Twitter, Vine lets users create short, looping videos that can be shared on social networks or embedded onto websites. With its record-and-pause feature, Vine users are able to create stop motion animation, where static objects appear as if they're moving.
The Cisco Visual Networking Index (VNI) predicts that by 2017, video content will make up two thirds of the world's data. Psychologist studies provided evidence that the average human sustained the attention span of 20 minutes before losing interest and becoming disengaged. When applied to visual content online, studies show that our average attention span for online videos is 2.7 minutes. This means if you want to encourage audience engagement and sharing, it's a good idea to master the art of shorter videos, thus Vine becomes an essential platform for marketers to utilise.
On average, we spend 16 minutes and 49 seconds watching online advertisements each month, an activity that has been boosted by users ability to instantly share engaging content with their friends and wider communities. Furthermore, an impressive 64% of consumers are likely to buy a product after watching an online video according to Invodo. Interestingly, figures from MediaBistro found that 5 tweets per second contained a Vine, meaning that creating branded Vines and encouraging sharing via social media could enable you to get your brand seen by the right audiences.
According to Unrulymedia, branded Vines are four times more likely to be shared than regular branded videos. Many brands are already pushing engaging video content and have been quick to embrace Vine. Oreo used Vine to educate audiences on clever ways to enjoy Oreos through a variety of social media campaigns, encouraging viewers to take part and post their own videos using the Twitter hashtag '#OreoSnackHack'.
Sarrah Ahmed, Head of Client Services at social media agency TAMBA says, "The key to a successful vine is to keep it simple. Because of its features, some brands may assume that the more you show, the more influential it will be. Essentially, keep it short, simple and straight to the point. Remember why you are creating the vine and try to visualise the end result."
So how can Vine fit within your marketing strategy? Why should you invest valuable time and money in creating six-second videos? TAMBA have produced an infographic, 'The Rise of Vine', which illustrates how Vine might be a powerful tool for your marketing strategy, and also showcases the brands that are making the most of Vine.
References
Cisco Visual Networking Index: http://www.cisco.com/en/US/solutions/collateral/ns341/ns525/ns537/ns705/ns827/white_paper_c11-520862.html