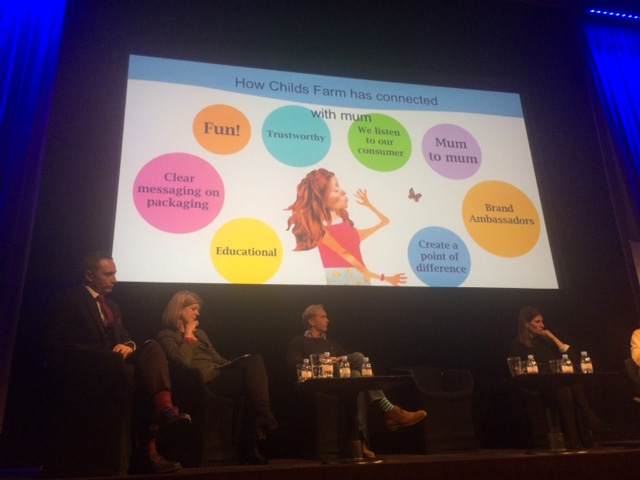 Yesterday, I attended Mumstock, Mumsnet's Annual Conference about the increasing complex issue of marketing to mums.
I say increasingly complex, because research released yesterday by Saatchi & Saatchi in conjunction with Ipsos Connect indicated that there are now 66 Identities which represent "mums", all of which need nuanced and personalized content in order to be effective and authentic.
The research found that just 19% of British mums claim there are any examples of mums in advertising they could relate to. The nuclear family no longer exists and in its place are blended families, multi-racial families, same sex parent families, the list goes on… and these families, these mums are not proportionately reflected in the ad world.
The mums surveyed for the research spoke on a panel about how many pieces of advertising they are subjected to each day which position them as either a germ-phobic housewife or as perfectly-coiffed 28 year old blonde; identities they found patronising and unrelatable.
Weaponised automated marketing is used when marketing to mums, but it simply isn't effective.
As an example, 2.5m mums have only one child. A large proportion of value offers in supermarkets (multi-buys and offers) is off limits to them. Holiday deals are often for 2 adults and 2 children, excluding single parents and families with single children from those deals.
Many of the speakers at Mumstock implemented focus groups and networks of mums who were invited to test products and services and their feedback used to evolve the final solution delivered. Not only did this improve sales and market share, but also the brand affection as peer-to-peer word of mouth recommendations increased exponentially.
The brands, which included Asda, Sainsbury's, Boden, Starbucks, Little Dish and Child's Farm, all felt that whether the budget was big or small, research was certainly key to their success. Beginning by clearly understanding their audience with quantative and qualitative surveying, allowed them to hear, evolve and improve their offering and isn't something they do on an ongoing basis.
A key message however, was that research data alone would not change an organisation's marketing success. Layering different data types for a rounded view of your audience was preferable, and ensuring that your content was engaging and hyper relevant was essential.
Asda's CEO, Andy Clarke, explained that 80% of his marketing decisions come from research with mums and 20% on market trends. He went on to say that TV remains Asda's largest marketing environment but the cost for social media is so much lower, that will grow as they reduce TV spend, in line with the changing behaviours of his customers.
Starbucks Director of Marketing & Category, Steve Flanagan talked about how they created an in-store experience, which magnetised mums and led to a natural flow of positive social media coverage. The Starbucks app ordering system allows mums (or anyone) to skip the queue and order before you get there or from your table, and anyone with small children can instantly see the benefit this creates for the customer.
They also adopted the NCT Parent Friendly Charter; warming bottles, improving changing facilities, attracting and retaining the parent consumer. It is no surprise then that Starbucks customers share their experiences on social media simply because of the experience they are given in-store.
Content was a key topic of the day too. The advice was to create engaging content FIRST. Targeting won't help if the content isn't great. Proctor & Gamble's SuperSavvyMe was implemented to "improve people's lives" but they have recognized that the more people engage with this content, the more they buy from P&G.
St John's Ambulance Director of Brand Marketing, Steve Conway, talked about The Chokeables campaign. Research led to them targeting a select group of mums from pregnancy to age 3, and used animation in order to get a message across without using fear. As well as achieving huge organic PR, uplifting the number of parents who took first aid classes and masses of YouTube video views, incredibly the campaign is already known to have saved 47 lives.
The day was full of interesting stats and case studies but to give my top take aways:
If 81% of mums can't relate to mums in advertising, we need to change the content we're delivering as an industry
There is huge value in being a mum in advertising. We add authenticity to campaigns when we go with our gut and use honest, humourous and realistic campaigns to relate to our audience
Joanna Jensen, CEO of Child's Farm identified two forms of influence to mums; word of mouth and media. WOM is often overlooked so focus groups, blogger outreach and brand ambassadors are a low-cost, high impact tool to use when growing your brand on a budget
Fruit Shoot's Kirsty Hunter advocates "Have a purpose, be real, make it snappy, use the power of recommendations and make things fun"
CEO of Sainsbury's Mike Coupe recommends you must "Understand your customers and personalise as far as you can via digital media".
And finally, for any mum who has felt parental guilt for all those baby pictures they upload… Facebook's Steve Hatch advises they get 48% higher reaction than the average Facebook post. An idea for advertisers perhaps…