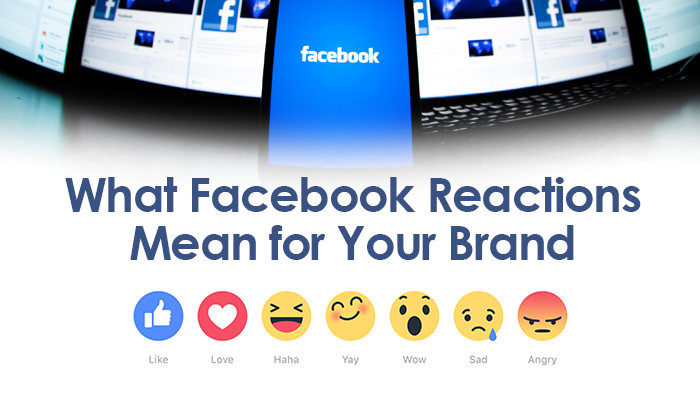 Facebook Reactions have come as a response to the long requested 'dislike' button. Mark Zuckerberg has instead implemented a suite of possible reactions that give users a larger range of options with which to express themselves.  The change is currently being rolled out by region, with Ireland and Spain being the first to receive the update.
The outward aim of this move was to provide users with a way to express empathy on difficult posts, where 'liking' would seem particularly inappropriate.  However, the positive reactions (Like, Love, Haha, Yay and Wow) will inevitably be included in a constantly changing algorithm.
Facebook's News Feed organically pushes posts out to users based on engagement, with likes being a mainstay for propagation outside of advertising spend. Adweek reported that worldwide social advertising spending per user has increased from $6.97 to $7.98 between 2014 and 2015. With this rise in spending, many brands will be looking for any advantage they can get to increase their ROI by boosting the organic reach of their posts.
56% of Facebook users say they have clicked on an advertisement, as revealed in a study by Adweek. Increased engagement with posts may well be seen, at least in the short term, as a quicker way for users to express for their feelings about a post without leaving a comment.
This lower threshold of effort required to engage with content, coupled with new metrics to measure, offers exciting opportunities for dynamic companies.  Creating editorials aimed at generating a specific reaction is now entirely possible, with the reactions posted to the content providing users with more information at a glance as to what others think.
These metrics also provide an easy overview of brand sentiment, something marketers spend time and effort to measure. US firm Ignite revealed in their use of Radian6's sentiment measuring tool that only 36% of automatically flagged up posts actually contained a recognisable sentiment. By giving users the ability to better express how they actually feel about content, marketers can more easily measure how a brand's audience is reacting to the content they post.
Invesp revealed in an infographic that businesses are paying 122% more per ad unit on Facebook than they did just one year ago in 2014. The conclusion to draw from the increasing cost of advertising and the introduction of Reactions is that we have an opportunity to better measure engagement and target content on the social network.
Marketers are always looking for new ways to gauge the impact of their activities, and these options are not to be sniffed at. It may not be a perfect solution for some, but there is an opportunity for those willing to take it!