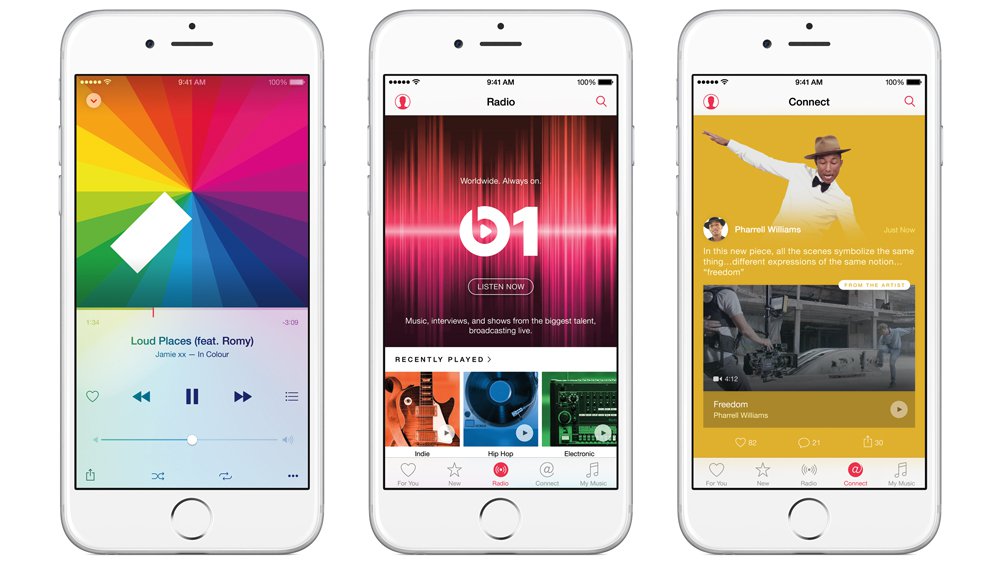 Apple's World Wide Developers Conference took place yesterday, announcing a raft of new features, OS updates, Apps and more. With such a large amount of information, it can be tough to shift through and pick out the details that are key to you, so we picked out our favourite four announcements from the bunch! Each of these mean new opportunities for dynamic, forwarding thinking, out the box companies and plenty of potential rewards on offer for those brave enough to take them.
Apple Music
Possibly the biggest announcement outside of the consideration of marketing, Apple have announced their intention to go up against Spotify and the other premium music streaming services. During their presentation they included a subtle dig at Spotify by including Taylor Swift at the number one spot on the chart; the star famously pulled her music from Spotify as a protest against the poor royalties paid to her and other artists. While Taylor Swift's catalog is not announced as a selling point, rapper Drake attended the conference himself to speak about the service. Notably, Drake was previously circling artist-owned premium service 'Tidal' but his endorsement of Apple Music seems to signal a shift in at least his feelings about music streaming.
So what is new with Apple Music that you can take advantage of? Apple music introduces 'Connect', a social media aggregator between Twitter and Facebook that could be catching the attention of many premium music stream users. Spotify has over 75 million users while services like Tidal and others take a much smaller chunk. Apple Music is in a position to take a portion of that market that other services haven't been able to capture, with $9.99 base price for the US the service is firmly within the range of the most popular services.
Another important feature of Connect is exclusive 'SoundCloud' type features that will allow artists, signed or unsigned, to share music, photos and news all in one place as well as pushing certain content out to Twitter and Facebook. Potential for marketing in the musical space to become more centralised is a good opportunity for artists and business involved in this sector.
Apple Pay
Apple Pay is coming to the UK next month and is supported by a raft of high street banks and stores. The new feature allows you to use technology already in place in both versions of the iPhone 6 to attach your card details to the new app and use it as a contactless payment system. With over £380 Million being spent over the Christmas period last year using contactless cards, a massive 330% increase in December compared to the rest of the year, there is certainly a upwards trend that could be exploited.
For digital marketing, Apple also announced an interesting feature of Apple Pay. Attached cards can be used on the iPhone to make purchases online with TouchID being the required authorisation. Supporting this new feature early could put you ahead of the curve and let your clients and customers complete their purchases with even greater ease.
News
Replacing 'Newsstand', the simply titled News is a Flipboard style service that uses learning algorithms to help present you with the articles you want to read. Publishing your articles to the service, in conjunction with the new algorithms, could allow you to reach new readers and a wider client base.
News also introduces a new format that includes dynamic editorial layouts, image mosaics and typography for a engaging and exciting platform for your content.
After 4 years Flipboard had over 100 million users and with News set to become a standard app on the screens of millions of iPhones around the world it has the potential to become a very big platform.
Apple Watch SDK Update
The previously available Apple Watch SDK got a major update on the day of the WWDC, allowing developers to produce entirely native apps for the watch. Previously developers would have had to run their apps on the paired iPhone and push the content out to the watch, leading to some apps being slow or unresponsive. This update opens up a raft of opportunities for new, exciting apps and content delivery systems on the new untethered Apple Watch. It can even connect to the Wifi to allow its new native apps to work when away from the paired iPhone.
Also new to the watch is a feature called 'Complications' that allows Apps to add widgets to the face of the watch when it is idle. This allows users to get at a glance updates such as stock information or sports scores but is of course open to the creativity of fantastic developers!
The beta update is available now.
Opportunities 
The WWDC15 really rounded out the features of several existing technologies and with their development towards becoming the devices of the future we believe firmly in moving with the times, being brave and thinking outside of the box. The first to move and take advantage of the new are the first to reap the rewards.