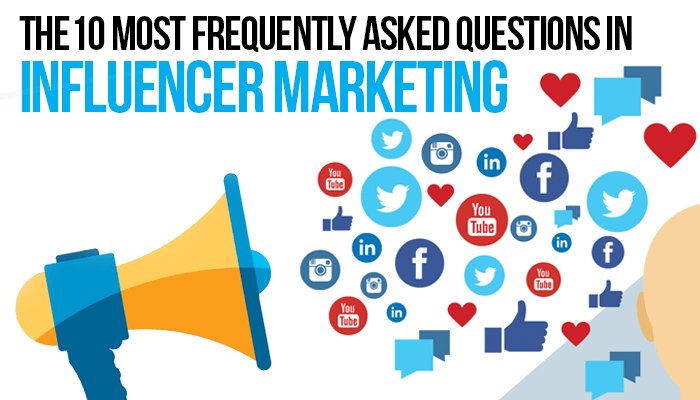 We receive enquiries from clients every day about Influencer Marketing and how it can be used to create awareness, sales and affection for their brands.
We've collated the 10 most frequently asked questions to help you decide if influencer marketing is right for you, and if so, please get in touch and we can talk to you about how we create campaigns and source influencers that will achieve your business goals.
1. What are the benefits of influencer marketing over traditional advertising?
Research has shown that people are 50x more likely to purchase from word of mouth than an impersonal ad. Further, 44% of social media savvy women cited their buying decisions were influenced by a trusted blogger. 26% of people surveyed also purchased a product from a celebrity endorsement showing that this influencer marketing strategies impact customer choices. You can find more influencer marketing metrics in this infographic, curated by TAMBA.
2. Why do I need an agency?
There is no reason why you couldn't find an influencer yourself, but most clients come to us for a robust strategy where we'll source a number of credible bloggers, vloggers, Instagrammers and so on, who have verifiable, genuine traffic and an audience which will suit the client's needs. Influencers are placed under contract with us, ensuring we optimize and guarantee the coverage and we build professional media packs to communicate the client's product or service to be used in the campaign. Where competitions are part of the influencer campaign, we create the competition mechanism, help influencers optimize their audience participation and handle prize fulfillment.
3. What makes a quality influencer?
In our opinion it's not about vanity numbers. It's better to target an influencer with 50,000 engaged viewers/readers than one with 1m that rarely interact in anyway. Influencers who have a track record in their niche are always preferable, although we have found many influencers who have been somewhat under the radar and have achieved excellent results for our client campaigns. Reliability and consistency are also important – influencers are unregulated and some may have day jobs which mean their ad campaigns are not necessarily top priority. When sourcing influencers and as we work with more and more, we maintain scorecards of how effective, reliable and consistent they are.
4. What sort of influencers can you connect my brand with?
You may wish to target bloggers, YouTubers, Instagrammers, SnapChatters and we have access to all of these. We also have a large database of celebrities who will provide social media endorsements, subject to suiting their personal brand. Tell us what your product or offering is, and we'll make recommendations!
5. Can you connect me with only UK influencers?
No, our database numbers tens of thousands of influencers across the globe. Most frequently we work with clients doing campaigns specifically in the US & Canada, across Europe and in the United Kingdom, but we've also done campaigns in the Middle East & Africa for example.
6. What does influencer marketing cost?
That's a tricky one to answer. Typically, our minimum spend for a pilot influencer campaign sits around £5,000. If we are targeting influencers in large numbers this cost can rise exponentially as it will also do if we are targeting very high traffic or famous influencers. If you want to work with A listers, you'll absolutely need a 6 or 7 figure budget!
Our costs include any influencer payments, creation of media pack, negotiations and contracts with influencers and prize fulfillment where appropriate.
7. How do we measure success for an influencer marketing campaign?
Typically, at the start of the campaign we'll discuss your current cost per acquisition of a customer and seek to demonstrate that influencer marketing can drive this cost down, where possible.
We'll agree success metrics with you from the outset, such as clicks through to your website from campaign links, or sales orders with influencer-shared coupon codes etc. You may also choose to monitor social media mentions and brand sentiment as, although these are not financial metrics, they are important measures of your campaign's success.
8. How can I amplify an influencer marketing campaign?
You may wish to back up your influencer campaign with social media editorial activity which we can also help with. We can even create real world activations for you, such as demo days for bloggers to come and experience your brand or location.
9. How quickly will we see the effects of an influencer campaign?
You'll normally see a spike in activity when an influencer first publishes their content, however there is also a long tail effect and the added benefit of quality Google inbound links that come with such campaigns. We typically measuring on a weekly basis for a 3-month window from the publication date, however where we are retained, this is done on an ongoing basis.
10. How do I get started?
To have an exploratory chat about your influencer marketing requirements, please contact Kay Hammond, head of TAMBA's Social Media and Influencer Marketing Unit on 01543 495 888 or via email at kay.hammond@tamba.co.uk