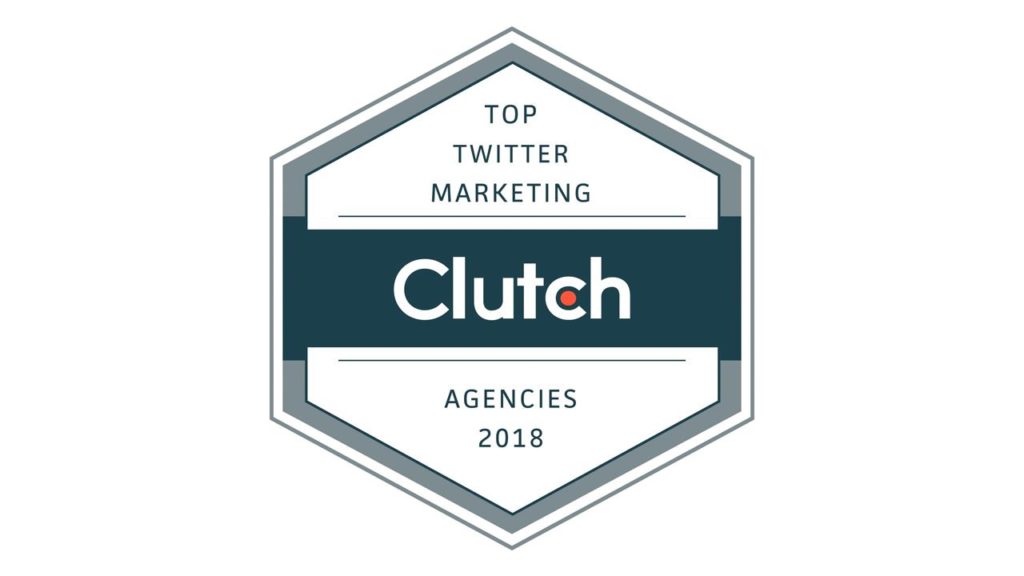 We are incredibly proud and delighted to have been named one of the top leading social media and influencer marketing service providers, in the world, by B2B review site Clutch!
After competing against 1,000's of other digital marketing agencies and companies around the globe we are absolutely thrilled to have made it to one of the top spots that support our specialisms in both social media marketing and influencer marketing.
Whenever you hear about social media and influencer marketing you often think about the process of acquiring more followers, or increasing your overall web presence and sales revenue or ROI. Many businesses claim that they are able to create astonishing results with no proof to back it up! For this reason, we decided to partner with leading B2B ratings and review firm Clutch to allow us to showcase our past accomplishments and demonstrate how we've helped businesses around the world grow and see real ROI from their campaigns, to business decision makers globally. And following this recent award, we are so glad we did!
Clutch collects client testimonials and reviews and shares them on a public database to ensure business decision makers partner with the most appropriate agency that fits their needs and help deliver the results they're looking to achieve.
They also release research reports of top leaders in different marketing specialisms, including social media marketing and influencer marketing, and we are absolutely thrilled to be honoured in their latest report.
Jon Broomfield, Managing Director at TAMBA, comments: "We pride ourselves on our ability and dedication to help our clients get more out of their marketing investment and strategies and so to have received an accolade that highlights that even more and shows our digital marketing capabilities and scope is an incredible achievement for us. I am absolutely over the moon. And to say there were thousands of other companies and agencies competing for the same position - well it's just a really great feeling to have been acknowledged for our capabilities over and above others in the same field."
Our reviews and web presence on Clutch have proven to be significant for TAMBA as we have not only been recognised as a worldwide leading social media marketing agency but also a leading influencer marketing agency too.
Commenting further, Jon explains: "We couldn't be more thrilled to have been recognised as a top leading digital agency in social media - but to be named as one of the top influencer marketing leaders too is brilliant!
"Our scope with influencer marketing is vast and we have a bank of reliable, trustworthy and loyal influencers that we know we can call on at any time to help our clients get the results and the sales they're looking for. Not only that - more often than not, the influencers that we source believe in the products just as much as the client themselves do, and to me that just highlights the calibre of influencers we work with and gives us added confidence in our ability to deliver an exceptional service to our clients.
"From microbloggers to major UK and international celebrities - our capacity to find the best influencer for our client is paramount to our, and their, successes."
Naturally, we couldn't have achieved this status without the help of our amazing clients, and the overall focus and dedication from the team here at TAMBA that we give to being not only the best social media marketing and influencer marketing agency in the space, but to specific pipelines in social media as well.
Here's some of the most recent reviews we've received on our Clutch profile:
"Working with TAMBA as part of our influencer marketing campaign, was most definitely the best decision we could have made. The campaign ultimately exceeded expectations, helped us achieve our core objectives and goals and generated invaluable consumer and product feedback. TAMBA's adaptability, accessibility and strong industry connections ensured we were well represented across a wide and varied audience. Their proven expertise in influencer marketing, alongside a very competitive cost - by far the best we saw in the UK, set them aside from everyone else and they have really proved their value to us."
Mario Defauwes, Director of Marketing, StriVectin
"TAMBA assisted us in creating content for social media, specifically Facebook, Twitter, and Instagram. They set up an online contest, and worked on creating content and managing interactions with the audience. Since working with TAMBA, there's been a significant increase in followers on all social platforms, as well as several applicants to the competition. Working with them is easy thanks to their attentiveness, expertise, and flexibility. They're also great at accommodating client feedback."
Flo Saint-Maxin, Marketing Director, Career Builder
You can check out some more of our latest success stories and projects we've been working on here. Alternatively, head on over to our Clutch profile and see some of the amazing reviews our clients have left for us.
We're always so grateful to receive such incredible feedback and continued support so if you'd like to leave us a review on a project we've worked with you on, simply head on over to Clutch and leave us your comments.
We hope to continue to expand our customer base and as we continue to grow, we will endeavour to adjust and reflect our business practices and services based on the feedback so generously given by our clients. If you'd like to learn more about TAMBA, you can check out our company profile on Clutch and our website for a full list of services and specialisms.