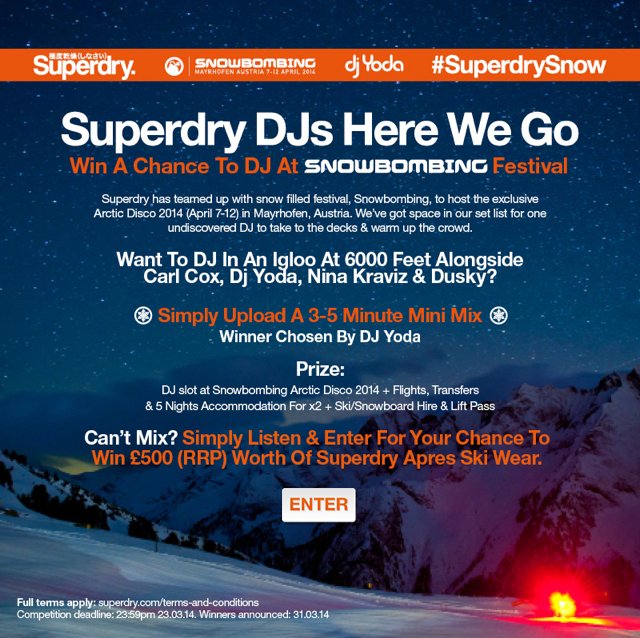 On top of cutting-edge style, Superdry fans can expect fresh sounds and the chance to win a trip to the Snowbombing festival in Austria on the urban clothing brand's Facebook page in TAMBA's latest work for the brand.
Aspiring DJs can share their original compositions through Superdry's Snowbombing app for the mother of all musical prizes – the chance to mingle and mix with top turntablists, such as DJ Yoda and Nina Kraviz.  What's more, there's £500 worth of exclusive Superdry Apres ski wear to be won.
"The Snowbombing app provides an immersive brand experience for Superdry fans," said TAMBA CEO Kay Hammond. "Not only does it encourage creativity and interaction, fans have the opportunity to share their love for the brand."
The app is one of the many social media activations that TAMBA has developed for Superdry to increase engagement, encourage viral reach and grow their audience.  TAMBA recently released the Facebook version of the third issue of Superdry Paper, their popular fashion newspaper.
Last year we also ran a successful social media marketing campaign to support their #SuperdryStudents ambassadors programme that generated traffic to their website and stores – within the first seven weeks, TAMBA grew their Twitter fanbase by 23%.