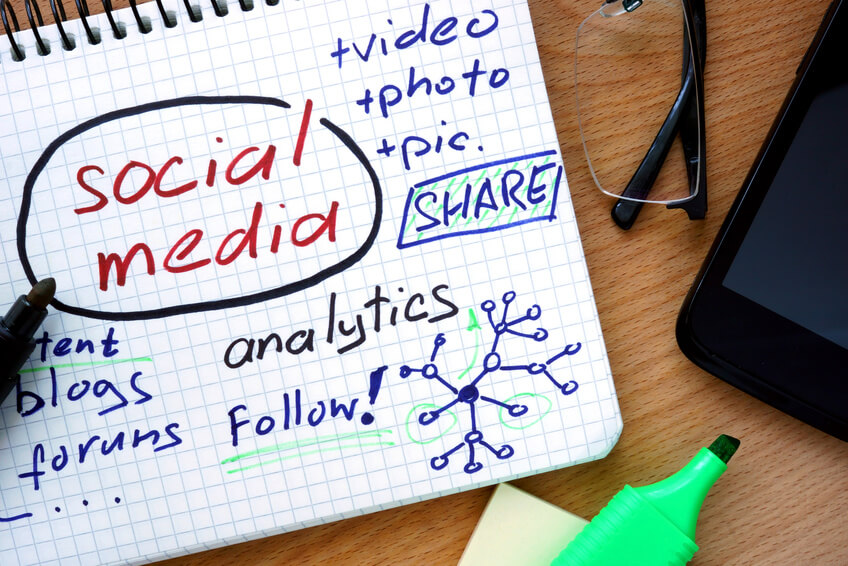 Social media marketing was rated as the most important technique for driving incremental sales for businesses in 2017, according to Smart Insights. Since the emergence of social media, it has fast become an integral part of digital marketing and we have witnessed a social media evolution over just the past year alone. From altering algorithms to adding video features, all of this year's key social trends have paved the way for changes to come in 2018. Here are a few top trends to look out for in the year ahead.
Video content will continue to reign
We already know that content marketing helps users move along the conversion funnel, but when thinking about content, many brands often neglect video formats. Over the past year we've learnt that video content generates a higher percentage of user engagement while giving brands authenticity and personality.
Recent studies conducted by Think With Google have shown that almost 50% of web users will look for videos related to a product or service before making a purchase. It came as no surprise when video content soared to popularity over the course of 2017, especially live video streaming. A 2016 survey conducted by Buffer showed that 83% of marketers said they would like to create more video content while 42% specifically wanted to create more live videos. We expect this percentage to continue to rise as live video becomes more and more mainstream in 2018.
After the arrival of live video, businesses quickly realised it is the perfect way to connect with their customers. Since its launch, live streaming has been used by brands and celebrities alike to conduct interviews and grant consumers and fans exclusive behind-the-scenes access to showcase their unique brand identity on a more personal level. According to a Livestream survey, 80% of users have said they would rather watch a live video than read a blog post as it increases user confidence by giving brands a more human touch. According to Cisco's annual VNI forecast, no less than 13% of web traffic from video content comes directly from live videos and this figure is likely to grow continuously throughout 2018.
Another video trend to keep your eye on in 2018 is 360 video. This allows viewers to control their individual perspective while watching video content. We've seen 360 videos emerge slowly in the past year, with businesses beginning to use them in digital marketing campaigns. The immersive nature of their technology allows the content to gain more views, shares and subscribers than standard video content, while being played with ease on smartphones. 360 videos will also lead to the rise in use of shoppable video content. This involves using videos created with layers in which users are able to swipe their mobile device screens to buy a product or subscribe to a channel after watching the video advertisement. We will definitely see shoppable video content surge in 2018 as the online retail space becomes more crowded and businesses look towards new, innovative ways to stay relevant to their consumer audiences.
We will see a rise in ephemeral content
Let's begin by defining what ephemeral content is; the term ephemeral means something which lasts for a short period of time. In social media terms this relates to the content generated using the 'story' functions which have become popular this year on the Snapchat, Facebook and Instagram social channels.
While this is a relatively new tool for most brands, we still expect to see the use of this feature grow massively this year – especially Instagram stories. According to Facebook's global head of sales Carolyn Everson, a staggering 250 million people use Instagram stories daily the function's launch a year ago, which is 50 million more users than Snapchat.
Ephemeral content is a quick and easy way for brands to get right in front their audience. Similar to live video, it's another way for businesses to showcase their brand personality and display their products or services in action. 'Stories' on both Instagram and Snapchat allow brands to be more authentic while posting real-time content. Although 'story' content is short-lived and disappears within hours, this often works in favour of brand marketing as it provokes followers to take immediate action which marketers can gain from. Unlike Snapchat, Instagram provides a much more sophisticated advertising platform for brands with Instagram Advertiser statistics showing that around 75% of the app's users take action after viewing an Instagram advertising post.
Say goodbye to organic reach
After the big changes Facebook and Instagram made to their algorithms last year, we fear that the time for free, organic reach is almost at an end. Facebook was the first to change its algorithm, making it seemingly more difficult for brand marketing to be seen by consumers. Research gathered by Statista has shown that since reducing the organic reach of brands' posts to only 16% in 2012, Facebook has continued to reduce the reach of unpaid content by brand pages with their aim being to push brands towards paying for a larger reach of their content. A study conducted by BuzzSumo in 2017 has reported that the average number of engagements with Facebook posts by brands dropped to more than 20% in the first six months of the year. This means that brands now have to try harder than ever to be seen by consumers on the dominant social platform.
Instead of posts appearing in chronological order on Facebook feeds, posts with more engagement started being pushed to the top instead, causing social marketers to increase ad-spend budgets on the platform. Instagram was quick to follow this trend by making changes to its own algorithm which enabled posts with higher engagement to climb to the top of Instagram feeds. While marketing on Instagram became increasingly more difficult, the stakes were also raised along with it. Research on Social Media Today has shown that 78% of consumers make purchasing decisions which are influenced by a brand's social media, meaning a successful Instagram strategy is essential to positive lead generation and sales.
Hanapin released a State of Paid Social report for 2017 last year in which they found that Instagram and Facebook are the top platforms on which marketers will be increasing their advertising budgets. This means we will be seeing a rise in social media advertising budgets throughout 2018.
Influencer marketing will remain popular
Before we talk about influencer marketing, let's define what the term 'influencer' means. An influencer is a person with a large, engaged and active following on social media. Their success comes from having the undivided attention of their growing audiences on their prospective social channels and/or blogging. They are able to authentically connect ideas and messages with people which leads to them being brilliant at influencing consumer behaviour.
The use of social media influencers to help a brand increase reach, followers, reputation and sales, gained fast popularity last year. According to research by Lingia, a huge 86% of brands are using influencer marketing as part of their content strategy and this number will continue to rise throughout 2018. A survey conducted by eMarketer found that 84% of marketers said they would launch at least one influencer campaign within twelve months and over 80% of marketers who have undertaken influencer marketing campaigns, found them effective for driving both engagement and awareness.
The key to mastering this trend this year will be to move towards authenticity. Instead of working with the biggest influencers or celebrities, brands who work with micro-influencers who genuinely want to endorse their product or service will gain far better results than that of working with an influencer who has a large following but no interest in what they're trying to market. Micro-influencer marketing is affordable and can be very effective when done correctly. Source Expert City has found that 82% of consumers follow recommendations made by a micro-influencer. This means that including the right micro-influencers in a marketing strategy could bring a higher ROI for a business.
Original content is king
Until recently, traditional marketing methods entailed businesses strictly selling to consumers directly via advertisements, branded emails and sponsored posts. These methods are not as effective as they once were as originality and creativity have become the most important aspect of brand marketing on social platforms.
Content marketing on social media is now less about direct selling and more about creating interesting content which people can relate with. The key to creating a winning content strategy is for brands to stop talking solely about themselves in a broadcast capacity and to start producing content that consumers want to read, watch and engage with.
Brandwatch have found that 91% of businesses have a presence on two or more social channels, while a study by AOL/Nielsen showed that around 27 million pieces of content were shared every day. This makes original content essential in getting a brand stand out amongst the masses.
Bespoke content is key to adding relevance to a brand and building a positive reputation by directing audiences to various helpful and valuable pieces of information. The major importance of original content is largely evident in its ability to direct consumers to company websites, increasing website traffic and leading people further down the conversion funnel to increase ROI.
And as much as content is king, editorial control is queen. Posting to game the social algorithms is putting consumers off so knowing when content is not worth posting is going to be a skill that will enable some brands to gain in social sentiment online.
In our opinion, these are some of the most significant social media trends which will impact brand marketing this year. With social media being less of an option and more of a necessity for brand marketing, getting a content marketing strategy correct is now more important than ever. What do you perceive to be the big game-changers for 2018?