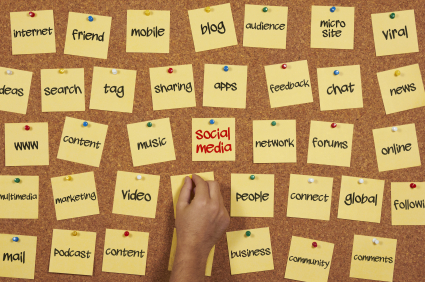 January's the perfect time to set new goals for the rest of the year and explore fresh ideas for social media. With numerous tools and services being introduced, we can't wait to see how digital marketing will develop in 2014.
We're always sharing tried-and-tested techniques on Twitter, LinkedIn and Facebook. These tips are just some of the latest tips, which you can use for your own marketing strategy or to share with others.
TAMBA tip #1:

Grab attention by creating visual social content like Vine and Instagram
Visual content is king, and if something is on the net that is going to go viral, most of the time it is video content. Automotive giant Hondas #WantNewCar social campaign brought 1,020 new followers (compared to its six-month average of 242 followers) and 2,292 mentions-in the first day!
TAMBA tip #2:

Identify industry bloggers and share your news with them. They can drive as much traffic as traditional news sources.
Established bloggers have built up large communities and followers boasting credibility and in turn are huge influencers. Targeting the most appropriate bloggers to your industry is key, and is an excellent way to promote products and services through blogger reviews.
TAMBA tip #3:

Scorecard your social media audience on a weekly basis to identify audience gained and lost. Then look at the past weeks content to find out what turned the audience on or off!
Keeping a record of the activity and engagement of your social channels will enable you to gain insight into what works and what doesn't via the engagement you receive. Create a plan, and learn from your mistakes.
TAMBA tip #4:

Retailer? Respond to your customers quicker! In 2013, the average response time to Twitter queries was 11 hours and 15 minutes.
71% of consumers who experience a quick and effective brand response on social media are likely to recommend a brand to others. An increasing amount of people are now going straight to brands' social media channels to air their frustrations over products and services. Proactive communications is key to delivering optimum customer service results via social media.
TAMBA tip #5:

What's the secret to creating sharable content? If its original, unique or just plain useful you're much more likely to get retweets and shares!
Creating strong imagery/video content enhances your chances of going viral. It's about being relevant to your target audience. Think about creative ways in which you can bring something fresh to the table.
TAMBA tip #6:

Did you know Instagram has over 150 million monthly active users? If you're not getting snap happy, you should be!
Tell a story with your images on Instagram. It is important to include a good mix of posts, including varying topics to keep your audiences engaged. Perhaps pictures of the weather or even fun events in your office. Instagram is a great way to integrate and encourage your employees to get more involved too.
TAMBA tip #7:

Ensure your YouTube videos have compelling thumbnails to encourage viewing.
Selecting the most interesting and relevant still of your video gives viewers an idea of what your content is about. Think of a thumbnail as a book cover. The more compelling it is, the more likely someone will be drawn to it.
TAMBA tip #8:

Consider live Tweeting at events to give an insider's look. Remember to put your own spin on things!
Drumming up excitement before an event is good practice - perhaps count down to an event prior to kick-off. Remember to be insightful and engaging to maximise the impact and value of your tweets.
TAMBA tip #9:

Make your content easily sharable on social networks by including share buttons and links.
When viewing your content online through a partner site or social platform such as a blog, ensure you include share icons. Users will be more encouraged to share a story directly to their social media feeds when share icons are displayed to re-post your content.
TAMBA tip #10:

Writing original content for relevant LinkedIn groups is an excellent way of building your reputation as an industry expert.
Networking is key, and by contributing to topical group discussions, you're in turn building credibility and trust.
What are your biggest challenges in social media marketing? Where will you be focussing your social media approach this year? To a specific channel, a particular business KPI, or more general improvements to audience share and brand amplification. We'd love to hear about your challenges - maybe we might even have the solutions!
For more tips, tweet us at @thisisTAMBA, connect with us on LinkedIn, or check out our Facebook page.