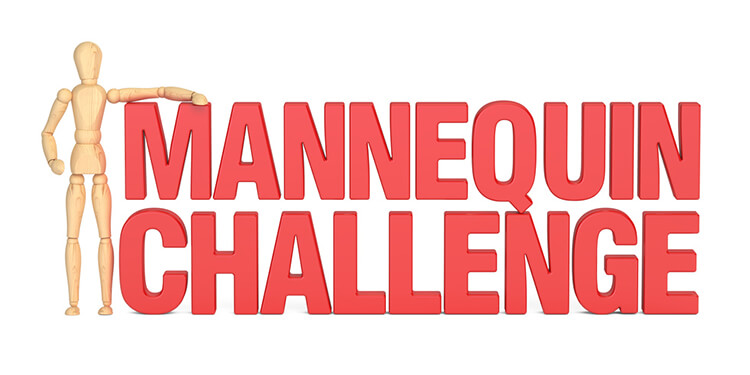 In 2010 we were introduced to planking. In 2013 the Harlem Shake became a phenomenon. In 2014 we had the Ice Bucket Challenge and most recently, 2016 brought us the Running Man Challenge and the Mannequin Challenge.
If you have somehow managed to miss this craze, the Mannequin Challenge is basically a video whereby a group of people stand completely still in a range of circumstances as if they were mannequins (hence the name...) Unofficially, this challenge has been associated with the song Black Beatles by Rae Sremmurd as it plays in the background of the videos.
Since October, this particular challenge has really taken the Internet by storm. From school children, to sports teams, to celebrities like Britney Spears and even Hillary Clinton, there has been much debate about which one is 'the best' Mannequin Challenge so far.
But why is it that these kinds of challenges go viral?
General conspiracies conclude that these sorts of challenges come into the light due to their simplicity on top of the fun nature, as well as the opportunity to get creative. The simplicity means that they are very easy to reproduce and there is little room for error. Typically, members of the Generation Z and Millennial demographics are more likely to partake in these activities. With 52 percent of Millennials spending over 15 hours a week surfing the internet alone*, it's no wonder that they are far more likely to join in with what everyone else seems to be doing at the time.
With the majority of the online population also being Millennial or Gen Z, this also means that the sharing of these challenges will reach out to a much larger audience through social media and so entice more people to join in. There's no denying that whoever helped influence this challenge did a good job as there have been over 4 million mentions of the #mannequinnchallenge on Twitter and over 16 million on Instagram!**
As well as young people, when fun challenges and trends start to surface they become great material for celebrity social media. They are amusing and interactive and are bound to get a reaction from celebrities' fan bases as it is great creative content. It also creates almost a competition as to which celebrity can be the most original. Having people with such large social media followings undertake challenges then creates much more of a buzz around them and they influence great numbers of their followers to start taking part.
A common theory suggested to the success of viral videos like the Mannequin Challenge and the Harlem Shake is that it is not simply the activity itself that made the challenge go viral but a fabrication within the music industry to create hits.
Although the original Mannequin Challenge did not contain the Black Beatles song by Rae Sremmurd the challenge still managed to take off. However, at the same time, since the song's association with the Mannequin Challenge, it has attained much success, rising to the top of the US charts as and had an increase of over 1000% in spins of the song, as well as reaching over 180 million views on YouTube.
Gunner Safron, the Urban Marketer at Interscope said himself before the release that the song had "viral potential" and implied that feeding and encouraging the song to the demographic who are taking on this challenge naturally encourages the association of the song.*** So this begs the question, are these types of challenges created as marketing techniques or subtly turned into one?
The idea that these challenges can be originated for the sake of music sales can be quite off putting to a lot of people.
As with most challenges, there is a segment of the population that struggles to find the point or the fun within these new-found crazes. With the Ice Bucket Challenge, the point was to get people involved to raise awareness and donations for the ALS charity and to generate awareness for Motor Neurone Disease and so it is perfectly understandable that this becomes viral. However, with the other challenges there is absolutely no point to them other than the fact that everyone had fun in the end! Sure, there's nothing wrong with that, but the lack of the feeling of achievement is off putting to some.
Additionally, some people find that as soon as something goes viral it gets completely exhausted. Scrolling past the same challenge attempted by all of your friends can be quite repetitious, eventually making social media feeds boring and the content becomes uninspired; this usually being the primary reason these types of challenges die out.
Despite all of this, it is clear that people have really been able to get inventive with their responses to challenges. The list of where mannequin challenges have been filmed and the different scenarios that have been depicted is almost never ending. It seems that we have really hit a creative age and whereas some people can't bring themselves to get on board with a challenge like this, it is a way for many others to express themselves. There have been some really difficult looking scenarios created and these things really can take a lot of effort and skill and quite often teamwork, which is something you don't realise until you attempt one yourself!
With all the bad news that 2016 brought us, despite what some naysayers may think, there's nothing wrong with having a bit of light-hearted fun for the world to get involved with. I'm sure we'd all be a lot more happy to either be getting involved with or watching these new challenges than to see some tragic political news after all!
It's hard to guess what the next challenge that is going to go viral will be. There's no theme or pattern to what makes a craze, so don't be afraid to attempt any ideas of your own, no matter how ridiculous they may seem. That's usually what seems to make them work!
SOURCES:
* http://www.theneweconomy.com/strategy/millennials-the-perfect-consumers

** http://expandedramblings.com/index.php/mannequin-challenge-statistics/

*** http://pigeonsandplanes.com/music/2016/12/rae-sremmurd-black-beatles-mannequin-challenge