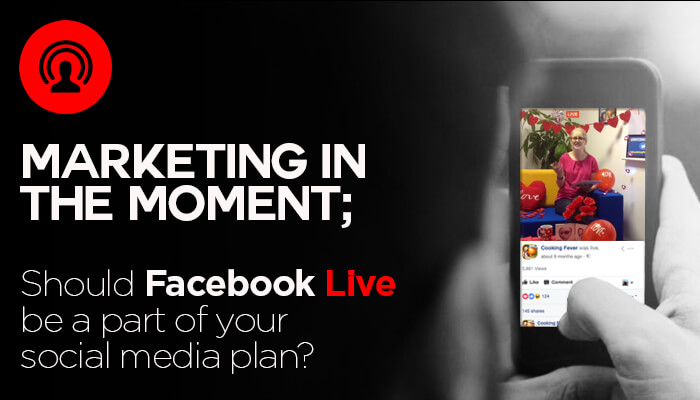 Whilst most people will now have viewed a number of Facebook Live videos on their feed, many brand managers and marketers are still not integrating them into their social media strategy.
In March 2016, Facebook reported that Facebook Live videos are watched 3x longer than videos that aren't live anymore and stated: "We are making a small update to News Feed so that Facebook Live videos are more likely to appear higher in News Feed when those videos are actually live, compared to after they are no longer live," meaning these realtime broadcasts help place you in front of your customers organically as you stream.
In terms of engagement, Facebook Live delivers incredible results, averaging 10x the engagement of a non-live video. Commenting can be amplified with live giveaways and hosting Q&As so the audience feels truly a part of the interactive experience.
Many brands are put off by the challenge of creating a studio environment with the lighting, sound and camera requirements that come with it. But results are just as good with lo-fi broadcasts as polished studio performances, with the audience mostly sticking around for the content of the show, rather than expecting an ambient TV-style experience.
As an agency that has delivered a lot of Facebook Live broadcasts, we've seen these build a loyal and invested audience base (heck, one of our weekly Live shows now has it's own fan-created fan club!) and one that is motivated to make purchases in realtime and shortly after such shows.
When targeting Gen Y, Millenials and the newly recognised Xenials, Facebook Live is an obvious choice. Using video, interaction and being realtime, you're marketing in the moment to those who make their purchasing decisions online. In fact, when Facebook first trialed Facebook Live, they did so with a test group of mostly student age users.
Facebook Live offers an equal footing to all brands, large and small so is definitely a technology to explore. If you want to understand how you could be making the most of this platform, get in touch with us on 01543 495 888 or view our case studies at https://www.tamba.co.uk/work