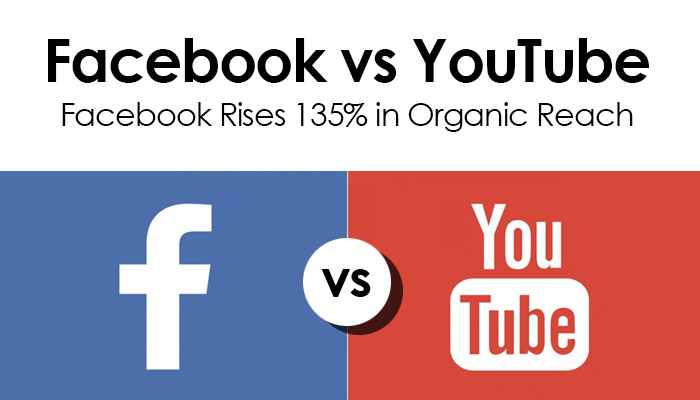 Facebook has been much touted as the first and possibly only rival to YouTube's video throne. As we are approaching August, we can look back at the performance of the social network this time last year and see Facebook registering 1 billion video views a day, as revealed by AdAge. Today, Facebook's video views have exploded to 4 billion views a day with Facebook even out-pacing YouTube on desktops, as revealed in a speech by Mark Zuckerberg at F8.
Socialbakers revealed, "Native Facebook videos get more reach than any other type of post." The key fact to pull from their data was that Facebook videos currently return a 135% increase in organic reach on average against a similar post that used an image instead. The shift from image-centric posts to the explosion in popularity of videos is a stark contrast against past understanding of marketing on the social network.
Around the world, people are posting 75% more videos to Facebook in 2015 than they did at the same time in 2014, as revealed at F8, Facebook's developers' conference. This increase in content has been supported by the wealth of new features that Facebook has delivered during 2015.
The biggest direct challenge to YouTube so far came with Facebook developing a "suggested video" feed that contains interstitial auto-play adverts. The revenue generated by those adverts will be shared with content creators at a rate of 55% in favour of the owner of the video. Incentivising content creation was traditionally the remit of YouTube and the success of dozens of "Internet famous" video creators could be a big drive for new stars to forge their path on Facebook.
Facebook are also implementing other video-centric features such as the 'secret mode,' which allows users to remove videos from public timelines as well as being able to narrow down an audience by age and location. In combination with these features Facebook are testing a mandatory advert break feature for when multiple videos are watched in sequence, as well as a number of recommended videos much like the similar YouTube feature. Along with these changes, Facebook users have seen a 360% increase in videos appearing in their news feeds over the last year, as revealed by AdAge.
These features coming to Facebook make the site a much more viable route for advertisers. With the massive bank of user data available on Facebook through its custom audiences options, it could potentially become much more profitable than its rival.
This doesn't mean that YouTube is doomed though, as it remains the 2nd largest search engine behind Google and the site is still growing, seeing a 50% year on year increase in the number of hours of video that people are watching. YouTube revealed these figures on their own statistics page along with detailing "More than a million channels in dozens of countries are earning revenue from the YouTube Partner Programme, and thousands of channels are making six figures per year." It appears Facebook may soon wish to boast such a statistic in the years to come.
According to the Wall Street Journal, YouTube reached a revenue total of $4 billion in 2014, growing from $3.5 billion in 2013, it is clear that YouTube and Facebook haven't quite locked horns in any meaningful financial way just yet.
The playing field isn't quite level also, it is worth considering before throwing your brand's weight into messaging on one platform or the other. Facebook registers a view after just 3 seconds while YouTube's minimum length for registering a view is somewhere over 30 seconds. The social networks now lauded 4 billion daily views was reached and surpassed by YouTube in 2012, meaning the Google platform has had greater views for over 3 years with a more stringent rule for measuring views.
The key takeaway from Facebook's changes are interstitial video adverts, custom audiences and revenue sharing and the way that users newsfeed are curated for them. This means that it is much more likely for users to engage with auto-playing videos than to find custom content or resist skipping YouTube's pre-roll adverts. At the same time, YouTube audiences are vast and the attention given to a number of their home grown stars is just as massive, partnering with a creator or ensuring that your pre-rolls are creative and engaging is the way to see results with the platform.
That means for marketers and advertisers that the best strategy is to take stock of the new features and opportunities that are continuing to develop on Facebook while ensuring pre-roll advertising is engaging and targeted to the correct channels. Targeting your audiences on Facebook is a powerful tool in reaching exactly who you wish to display your messages to and taking advantage of the additional 135% reach that videos on the service are experiencing is a fantastic opportunity.