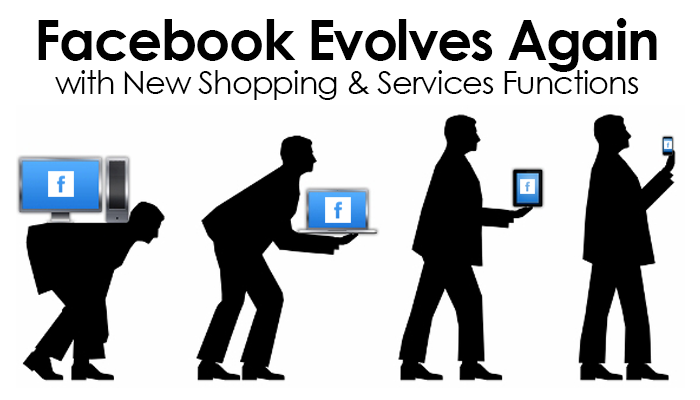 According to TechCrunch, around 40 million businesses, big and small, maintain an active Facebook page. While content marketing is proven to be incredibly effective, businesses that excel in driving users through to their websites may soon be set to receive a boost with the latest Facebook trial.
Announced this week, Facebook will soon release two new page sections, 'Shopping' and 'Services'.
'Shopping' is set to allow brands to take full advantage of all of the great content and engagement they receive without fans leaving their Facebook page. By allowing users to convert into customers on the page, brands that utilize these new features can be assured a bump in ROI and an increase in sales or sales-ready leads.
SocialBakers revealed in 2015 that 75% of brands promote their Facebook posts; this number could rise with the new developments, a savvy move from the social network. As the number of steps is reduced in bringing users to the point of purchasing, we could see investment in advertising on Facebook increase as brands compete to gain the attention of increasingly lucrative audiences.
Like 'Shopping', 'Services' is set to allow companies to showcase exactly what they can do for prospective customers and clients. By highlighting your credentials and detailing what your company can provide, the generation of leads from an active Facebook community are set to increase drastically for those who make the most of the new feature.
Having a well-implemented content marketing strategy creates the potential to drive conversions with the new features just as a by-product of engagement with any given page. The new features offer brands the ability to provide a prominent and convenient way for users to learn more, or buy then and there!
SocialBakers further revealed that 25% of posts made on a brand's Facebook page are customer questions. With the new 'Services' section moving information closer to Facebook users, it is also likely that they may be counter-intuitively compelled to click through to a brand's website. Filling your 'Services' section with great hooks and compelling copy could well be a must for many brands in the future.
Changes are coming quickly from Facebook and their recent developments appear to further cement the platform as a fantastic route to target audiences.  Allowing businesses to offer their fans products and service descriptions directly is simply a logical extension of what the social network already offers.