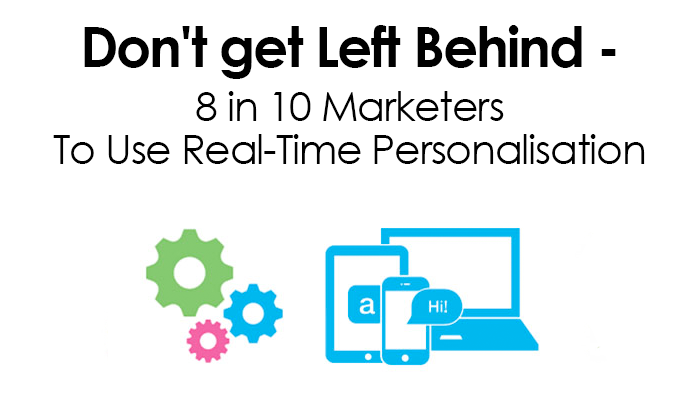 Real-time personalisation (RTP) is a growing trend in marketing. Researchscape found that 58% of marketers have used it recently to see up to an incredible 30% rise in conversions. Of the 42% that haven't used real-time personalisation, 8 in 10 are planning to implement the technique on their websites in one or multiple ways.
Personalising your content to your audience is a powerful tool in boosting your conversions. Using customer data on location, time on site and past behaviour lets you deliver the content that is most appropriate for them. Examples of this in action include promoting blog content relevant to the visitor, identifying and supplying solutions to common technical problems and cross-selling along with up-selling opportunities highlighted by the customers' data.
Researchscape showed that nearly three quarters of those polled said personalisation increased user engagement by 54%, many going on to cite improved user experience as driving factor.  In simple terms, personalisation gives each user a unique experience on your website and builds both brand awareness as well as developing your relationship with your customers.
With Demand Metric revealing that 90% of consumers find custom content useful, there is value on all sides to delivering a personalised experience to your users. Increasing conversion rates, reducing bounce rates and improving your users' experience is positive all round.
Starting to think about how to implement these systems for your users begins with segmenting your audience and selecting or producing the right content for each.
A study from Waiyn detailed how many different factors companies considered when breaking up their user base for targeted content. 48% of companies monitor what content visitors had viewed previously. 45% of companies include locational data and 36% of those surveyed factor in how long each user spends on the site. 35% of companies monitor navigational behaviour and 33% pay attention to the device on which the user is browsing. Seeing how many companies are using some or all of these methods, you can get a clear picture of how you can narrow down and personalise your user experience.
The benefits for a business operating real-time personalisation lie most visibly in conversion rates. Jeff Russo from Hubspot conducted analysis of over 93,000 calls-to-action and found personalised messages to users had a 42% higher conversion rate than a standard call-to-action.
These conversion rates are not being found in isolation, 37% of sites, in a study for Evergage, reported a 1%-10% increase in conversions. A further 39% in the same study reported uplift between 11% and 30%. A huge 76% of companies who implement personalisation systems see growth soon after!
Real-time personalised content is delivered using a variety of methods. Traditional pop-ups interrupt the user experience but when they do so with targeted content they can allow you to drive a critical action based on the users behaviour or offer incentives for further actions in real-time. Search Engine Land reported up to a 40% reduction in bounce rates with correctly time pop-ups
Callouts on your webpage highlight important features that the user will find interesting and can help drive engagement through pulling your users attention to where you want it most!
Infobars sit along the top or bottom of your webpage and present information and notifications in a persistent way across your website but do not interrupt the user's journey through that website. They are a great way to highlight relevant content without throwing it in the users face.
In-page edits simply offer the content the user will want straight on a given page on your website. This reduces the user's journey to the relevant content and allows you to draw them in straight away.
Using these methods with a clear understanding of your customers' data can be a very powerful tool!