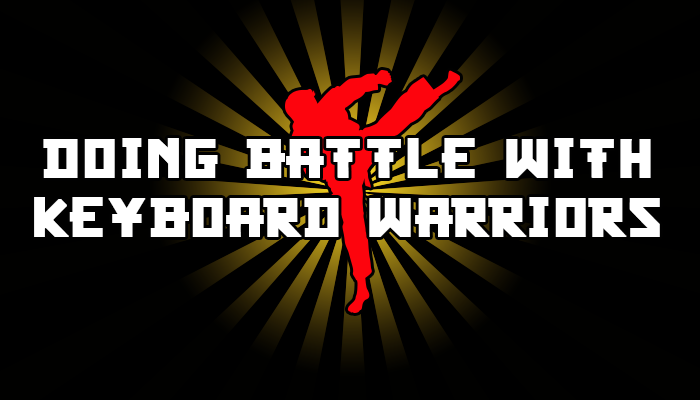 Ah, keyboard warriors on social media. It's a universal truth that if you operate on social media, you are fair game for the unhappy or possibly unhinged. It's all a matter of how you deal with it. The following may assist you in limiting exposure and damage from such individuals.
Publish "House Rules" for your social media channels. What you will and won't accept. If people deviate from these, they will be blocked from the page. In my opinion, it's not OK to block people who are naysayers – they need to be managed – but if people swear or bully others on page, that's a ban.
Invite keyboard warriors to take the conversation to PMs so you can discuss their concerns and offer your view. This invitation should be offered upon their FIRST comment. If they comment again on the post, remind them of your offer but state you will respect their privacy and won't take the exchange further in the public domain.
Focus on your happy social media users. We look after some very, VERY large social media communities and if you keep the vast majority happy, and get to know their preferences for what they want from your channels, they become self-policing. It's actually so rewarding to see this in effect. It takes a lot of labour but pays dividends.
If your social media response team have been dealing with a lot of complaints at once, rest those people and put other people onto responsive communications for a while. It can be very debilitating to handle complaint after complaint and a little break can refresh customer service personnel so they always give the highest quality service.
Don't place the handling of complaints and keyboard warriors with a junior member of the team. Situations can escalate out of hand all too quickly so, as you would in a normal face-to-face business scenario, give complaints and issues handling to an experienced, customer-focused individual. We've all read stories in the Daily Mail of poor social media response handling by inexperienced or downright gung-ho personnel!
If viable, monitor and respond on social media on a 24/7 basis. According to research from Lithium Technologies, 53% of customers want a response on Twitter in under an hour for a general query but this rises to 72% if they are raising a complaint. For many consumer brands, most customer communications will happen during evenings and weekends. Social media never sleeps.
It is worth noting that in the same Lithium Technologies research, 29% of respondents said they would tell friends and family of their poor experience of the brand and 24% would consider buying less from the company in the future. These stark financial implications show the importance of investing in both the timeliness and responsiveness of your social media customer care operation.
I hope the tips above will help you disarm those keyboard warriors and turn complainants into superfans.  If you'd like to talk more about how TAMBA can help you with your social media strategy, please call us on 01543 495 888.