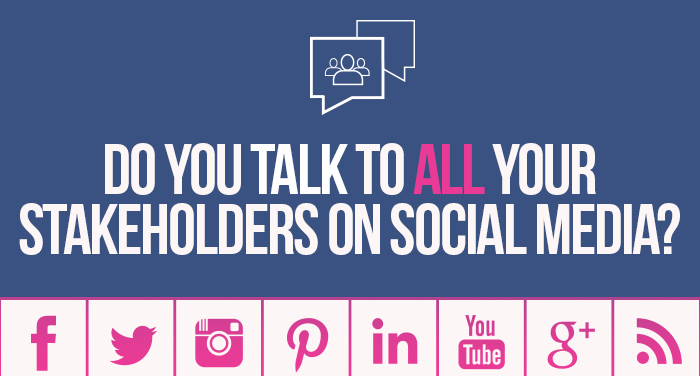 Most brands talk to their customers and consumers on social media – it's all about sales and revenue right? But there are other stakeholders looking at your social media, and forgetting about them means you could be missing a trick, or worse… alienating these audiences.
As you produce your next content calendar, start thinking about how you engage all your stakeholder groups within your content and which channels you use to reach each.
Employees / Potential Employees – LinkedIn is a great medium for the formal content where you talk about your organisation's successes, growth, perks and culture but since a picture speaks a thousand words, can you not share a daily post on Instagram which really captures the vibe in your place of work? These softer messages can often be very attractive to those considering you as a place of future employment and helps current employees feel engaged and connected to what's going on in the office. Of course, knowing you're going to be taking lots of photos often has the happy by-product of making your environment more fun and creative anyway!
Investors – These days savvy investors want to really get under the skin of the companies they back. It's no longer simply about balance sheets and P&L statements, but more about how a company runs, feels and scales. Investors will look at all your social media channels, identifying your key people, what you're proud of, how you're talking about yourselves and those you work with – to build a picture of what makes up your brand DNA.
Journalists & The Press – Proudly evangelizing client wins, key personnel hires, new innovations and clever products gives journalists and the press at large, easy access to the pride points for your company. Share them regularly. Remember that monitoring social media for mentions of your brand can also help you quickly challenge and dissipate any social media disasters should they occur and your responsiveness on social media should be swift to avoid a negative sentiment toward your brand.
Customers – They're probably the reason you're on social media in the first place. You want to win customers, to grow them and to make superfans out of them. It's all too easy to have such a laser focus on the aforementioned, that you oversell and end up pushing them away with too heavy a sales editorial focus. Your customers don't alwayswant to hear about the next product, the upcoming sale… remember to look at all their values and write content around those. What factors are important in their lives and how can you share useful information to support them? What times of day can you be of most use to them? Is that when you post your content? Do you have research or stats that will enlighten them and influencer their purchasing decisions? Share them. Far too much great content is coveted and is never shared for the greater good.
Consumers – They're not the same as customers. Customers buy your products, they're the decision maker but consumers USE your products. Advice and value added content is critical for this user base to turn them into brand advocates.
You might have even more stakeholder groups – schools have governors, charities have benefactors etc. As you create content going forwards, keep a column on your spreadsheet for stakeholders and document whom you are talking to with each and every tweet, post, video or photo.
Diversify and watch what happens to your social media sentiment and online success.