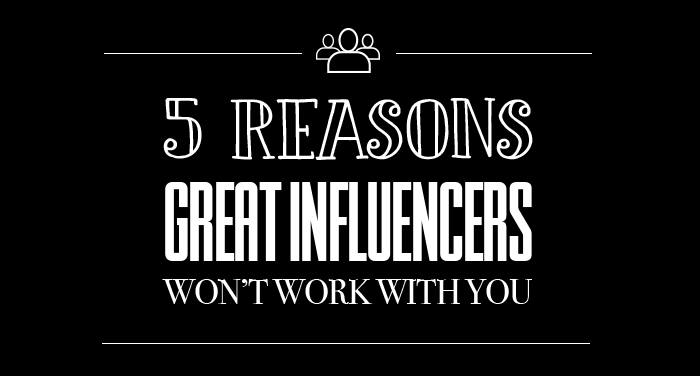 If you're in consumer marketing, no doubt you'll have considered or tried influencer marketing as part of your overall marketing mix. As an agency, we're often brought in after a failed attempt at influencer marketing and there are several key reasons why campaigns have been unsuccessful and it's often down to not attracting in the right influencers in the first instance.
You, the brand, want to work on a CPI (cost per interaction), gifting or sales commission basis. Top tier influencers and celebrities will not work on that basis. They know their value and want to be paid for their time and the scale of their network. It's that simple; they'll turn you down in seconds. Would a model be paid a commission for the clothes sold based on a billboard they're shown on? No. Neither will top flight social media superstars.
Your demands don't match your budget. You have a small budget, but you want 5 videos, all seeded to the influencer's social channels as well as featuring on their YouTube channel, and you'd like them edited to a polished finish too. It won't happen. Consider if you owned the channels and you had that sort of invested audience. Would you work for that budget? If your budget is tight, that's OK – there's still a lot you can do – but think about the channels and size of audience you can realistically get for that and choose from the talent pool accordingly.
You want to tell the influencer what to say. Any influencer worth their salt will ONLY accept a review or endorsement opportunity if they genuinely like and see value in your product or service. You can ask that hashtags are included (of which #ad or #spon should of course be one) and make editorial suggestions but you cannot force them to use your exact wording. Nor should you, it is their voice which has garnered the support of their audience, not yours.
They never read your email in the first place. Brands often try an in-house campaign in the first place because they don't want to pay agency fees. However, that's a false economy when firstly many influencers are managed by talent agents and managers who don't even present all the opportunities they receive, to their talent. Agencies like ours have relationships with many of these agents and managers to ensure our clients get consideration and presented to the talent for agreement. Furthermore, because we are brokering deals day in, day out, we can often get far better costs than a brand getting a one off deal at rate card prices.
You just aren't a fit for their audience. Great influencers are fiercely protective over their audiences and the loyalty that has been built up over time so on occasion, no matter what financial incentives are at play, they won't work with you. Listen to these influencers and use this to help guide your next choices of who to approach.