With this year's line-up including Dave Coplin (Chief Envisioning Officer of Microsoft) and Tom Standage (Digital Editor at The Economist), we'd been really looking forward to the conference. We're glad to say it did not disappoint. Here are some of the key learning points we gleaned from SMI13.
1. Social media environments have existed for centuries.
Tom Standage opened with an interesting comparison of modern-day communication with that of ancient times. The notion of socialising with peers is not a new one, but what's interesting is how communication has changed over time.
Ancient Romans were known for sharing information through letters, conversations and snippets heard in 15th century coffee houses. All walks of life would visit coffee shops to learn pertinent news – current affairs, politics, and of course, gossip. Communication was essentially a two-way street.
Standage explained that the idea of "new" social media has been in existence for ages, before it gave way to "old" broadcast media where news is fed to us with little chance for providing feedback. After some 70 years, we've come full circle back to a more open form of communication. Is social media really the new old way?
2. The problem is rarely technology; it's usually people.
We've all read a story where technology has been blamed for fraud, identity theft, and even violence. Then there's the recent issue with the US NSA, but we won't get into that. A question that was posed during SMI13 made us pause and ponder, "Is it technology or is it humanity?" Data harvesting and the misuse of information have led us to believe that we may be more vulnerable as users. Instead perhaps we need to invest more time in educating both the young and the old on how to better handle technology. With recent advances in technology, this is becoming even more apparent.
3. Companies must overcome the irrational fear of social media.
Although more businesses are adopting social media, a common issue that was addressed on the day – and from our experience working with leading financial institutions – is the fear of social media. How does a company react to a crisis? TAMBA's stance has always been that regardless of whether your brand has a presence on social, conversations about it are still occurring.
According to customer engagement tool, Brand Embassy, 30% of customer brand mentions are posted outside of owned channels. This means they occur on consumers' social profiles through direct interaction with peers. To quote Amazon CEO Jeff Bezos, "If you make customers unhappy on the Internet, they can each tell 6,000."
Including social media in your strategy allows your current and prospective customers to interact with you directly. Gone are the days when you would need to write a letter of complaint to an organisation. Today's society expects a company's customer service to be online and for immediate results.
The best way to manage a crisis on social, particularly Twitter, is to create compelling content and manage customers' expectations. Do not run away and hide from negative comments or commercial accidents; instead, take a cue from leading companies, such as Amazon, and show your audience transparency.
4. LinkedIn is where people invest time, rather than spend it.
Since it was first launched, LinkedIn has grown from a recruiter's playground to a credible platform for professional networking. We at TAMBA swear by it for not only the opportunity to connect with fellow professionals, but for the information-sharing in group discussions.
Recent research shows that users are 6 times more likely to use LinkedIn to seek expertise, compared to searching for jobs. The LinkedIn Today feature allows users to customise news relevant to them and their industry. Businesses with company pages on LinkedIn – and we sincerely hope you're one of them – should fully maximise the channel by producing content that is useful and relevant to target audiences. LinkedIn polls allow you to target specific audiences, helpful for gaining customer insights, whilst LinkedIn groups provide you with a credible platform to discuss topics and share your expertise.
5. The rise of the social business and the potential brand ambassadors already working for you.
One of our favourite presentations at SMI13 was by Dave Coplin, Chief Envisioning Officer of Microsoft, who spoke about the need for social businesses. Beyond embracing social media for marketing, companies might want to consider exploring what being social means for their other areas of business and for employees as well. "A social business has to be agile, able to adopt and respond to market dynamics," said Coplin.
A basic example is the trend towards more collaborative workspaces, meant to encourage discussions, boost creativity and nurture innovation. A nice bonus of having socially-savvy employees is that they are more likely to use social media in a professional capacity. Imagine if employees beyond the marketing department were empowered to embrace social media; they might be active participants in knowledge-sharing discussions on LinkedIn. This would indirectly highlight and elevate the company image.
Missed SMI13? Follow @ThisisTAMBA for live tweets.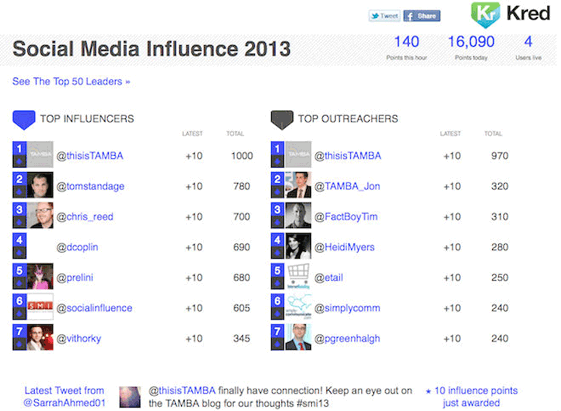 Follow TAMBA on Twitter to see what else we learned at Social Media Influence 2013, and tweet us your thoughts. Here at TAMBA we embrace the social business and regularly tweet from events when we can. Being social pays off – for the third year running we were the most retweeted at SMI!

Have you been to a Social Media Influence conference? What were your key takeaways?