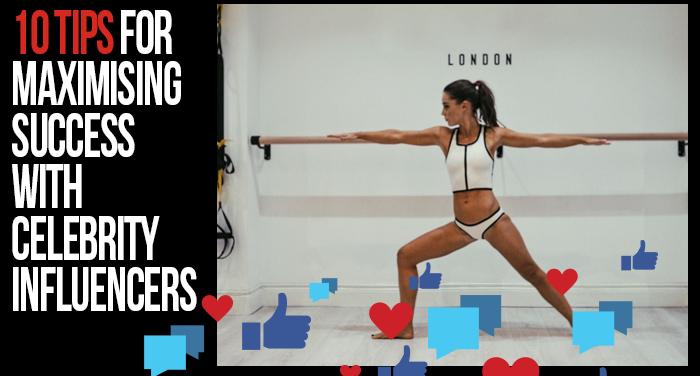 Working with celebrities has long been seen as an element of marketing only the biggest brands can afford. However, in the world of social media, the "celebrity" can quickly expose your brand to huge audiences and when carefully selected, can be financially accessible and indeed very profitable.
1. Celebrities can be more cost effective than you think!
Look at programmes new to TV, recently signed models etc and you can often ride their wave of fame from the beginning. As these people don't already have large audiences (but ones that grow quickly), they don't have the price tag associated with the biggest stars.
2. Partner with a non-competing brand to stretch your budget further.
If you represent a make up brand, maybe connect with a fashion brand and share the expense of your celebrity endorsements together. Pooling budgets can help you capture a bigger name and you'll both get mentions and / or links dependent on the platform and generally to large audiences.
3. Timing is key.
Timed well, perhaps around a film premiere or a new season of a TV show, the results can be stratospheric so when negotiating deals with celebrities, it's important you know their forward schedule and can select a date and time that will maximize the benefits to your brand.
4. Value Authenticity over Celebrity Status.
Your natural instinct when faced with a couple of options on influencers is to go for the biggest name with the largest fan base. However, you must also assess if they are naturally aligned to your brand. Social media users are shrewd and will not be kind if they feel their hero has been a "sell out" rather than endorsing something they would genuinely wear / use / eat or do.
5. Accept the Haters
The anonymity of social media and the love / hate relationship people have with celebrities mean that comments can sometimes be brutal. This is no different to when celebrities you don't like do a TV ad and you discuss it at home, however these comments are public and next to your endorsement. Given that you'll potentially be reaching hundreds of thousands of people, don't get hung up on the handful of bitchy comments!
6. Carefully Consider Your Hashtags!
Many influencers will limit you to 2 to 3 hashtags to accompany their posts (on Instagram and Twitter). One of those should be #ad or #spon – as required by the Consumer Protection from Unfair Trading Regulations 2008 so make a considered choice between hashtagging for example your product name versus the magnetism of a well searched hashtag!
7. Give Your Influencer Marketing a Call to Action
Add in a unique discount code people can use on your website to increase sales and attribute back to the influencer. A reminder of Point 4 here – use an influencer that is authentic for your brand and you'll see sales rather that one that has a massive but irrelevant audience.
8. Follow Up
OK, that sounds really obvious but whilst many people respond to FB posts and DMs and Twitter DMs, Twitter @'s are sometimes missed and Instagram comments mostly are! If people express a genuine interest in your brand or product, reply to them and begin to draw them into your sales pipeline.
9. Use More Than One Influencer
Using a single influencer won't give you the evidence that your campaign is working. You might get very lucky and see huge traction or you may see nothing at all. Always use at least two, so you can evidence what works and doesn't – time of day, type of influencer, content of post, media type etc.
10. The Humble Blogger Still Holds Great Value
Here at TAMBA, we're often asked to broker relationships with big name celebrities who have massive Instagram followings but we've equally seen great results from lifestyle and mummy bloggers who are "names" these days in their own right, although not what we would classify as a traditional celebrity. Remember, 44% of social media savvy women said their buying decision is influenced by a trusted blogger, according to a survey by Business2Community. As well as giving your product a share of voice amongst their audience, this offers the best Google link juice for long term SEO benefit for your brand.
If this has prompted you to think about how Influencer Marketing could work for your brand, please call us on 01543 495 888.